World's Largest Water Storage Tank, Built by CCC, Earns Guinness World Record
07.10.2020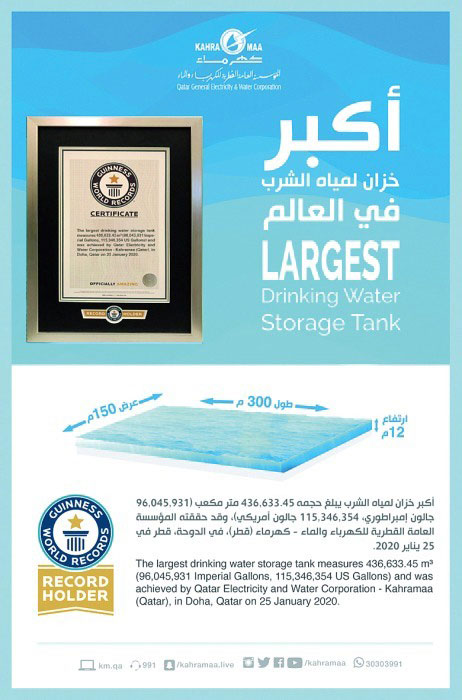 The Water Security Mega Reservoirs program, in Qatar, has entered the Guinness Book of Records as the Largest Drinking Water Storage Tank, ever built. CCC was responsible for building 5 potable water reservoirs /tanks of this major scheme developed by Qatar's General Electricity & Water Corporation (Kahramaa).
The volume of each of the drinking water tanks exceeds 436,000 cubic meters (surpassing 96 million Imperial Gallons, 115 million US Gallons) thus making it the largest water tank of its kind in the world and setting a world record.
CCC's project scope included the engineering, procurement, construction, testing and commissioning of five reinforced concrete potable water reservoirs or tanks with an area of 43,000m2 each, pumping stations and interconnecting networks of large diameter water pipelines at two distinct site locations.
For this breakthrough project, CCC had to excavate and backfill more than 3,000,000 m3 of earthworks quantities, and pour around 750,000m3 of reinforced concrete. At the same time, CCC's workforce which exceeded 7,500 (at peak), achieved nearly 73,000,000 overall work hours towards the completion of this world class project which is expected to be fully operational by end of 2020.
The Water Security Mega Reservoirs program is an ambitious water project aiming to address the enormous water demand in Qatar following the country's increasing growth, development and population. As a strategic project, it enhances Qatar's water security and provides a high-quality service in accordance with the highest international and local standards. Also, it promotes the country's sustainable advancement ensuring harmony between economic, social and environmental development.